Adapter Volkswagen Golf IV 51.0001.00 Ragazzon 1.8I (85kW) 1.8 GTI Turbo 1.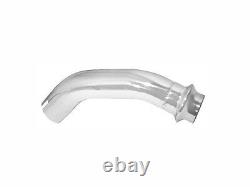 Volkswagen Golf IV 51.0001.00 Adapter Ragazzon 1.8I (85kW) - 1.8 GTI Turbo (110/135kW) 1998. Adapter for the installation of the rear silencer on the original stainless steel intermediate. Reduction for mounting on the original intermediate included. Internal diameter inlet 55 with reduction 50 external diameter tube 60 Text Image 1 (displacement): Ragazzon exhaust installed on R32 bumper/possible installation on original bumper. The Evo Line and Evo One Line provide a true sporty look for your car, ensuring easy installation and the unique Ragazzon sound. The entire range, made entirely of AISI 304 stainless steel, includes numerous CEE-approved products: complete lines, various articles, from catalytic converter to rear silencer with side outlet, competition group N lines, and Fia Csai-approved catalytic converters. These lines offer highly performing products that promote reduced back pressure and increased engine power while reducing fuel consumption. There are 50 available tip models to create an innovative and captivating design suitable for all car models. The Evo Line + Evo One Line offer a range of high-quality silencers that ensure a long lifespan for the sporty exhaust. The Evo One Line includes all car models before 2002.
Available on order within 7-14 days (except models only available on special order) - Shipped by Ragazzon Italy - FIA-CSAI, CEE, TÜV standards. ATTENTION: some rare models may be temporarily out of stock or in production, therefore, delays may occur.
We invite you to contact us for this type of product. Exhaust systems are subject to inspections by the registration office to obtain CEE approval.
These inspections involve different phases, such as studying the durability of the line, back pressure tests, and sound tests while running and at idle. The procedure also includes analyzing the resistance of the materials used to manufacture the exhaust system.
If the exhaust systems pass the tests, the accredited body issues the CEE approval certificate, which attests to the quality of the product and is valid in all EU member states, recognized in Switzerland and non-EU countries. Mounting an approved silencer on a car does not require any modifications to the vehicle's registration document, in accordance with directive 70/157/CEE and subsequent updates. We have been an online retailer since 2001. Importer of TYC lighting and mirrors brand.
Importer for France of Car SOUND replacement catalytic converters. Importer for France of MAGNAFLOW Performance stainless steel exhaust systems. Importer for France of ASSO Racing sports exhaust systems. Official distributor of Ragazzon sports and performance exhaust systems. To contact the right service. Tele-sales / Advice: Gilbert from 2:00 PM to 5:30 PM. Ask the seller a question. Tele-sales / Advice: Solène from 2:00 PM to 5:00 PM.
We are closed on Saturdays and Sundays. Sole proprietorship with a capital of 1000 euros R. S AIX EN PROVENCE n°: 535 376 008. List your items for sale quickly and easily, and manage your ongoing listings.